Review of Liberex Water Flosser & Pore Vacuum!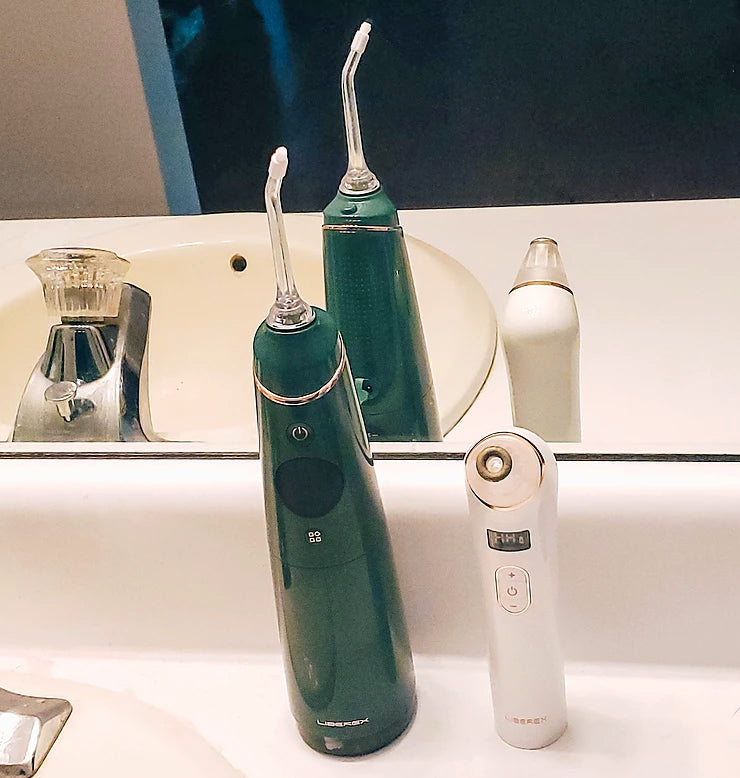 My husband and I have had the chance to try these products for a month and love both!
The Water Flosser is a staple in our nightly dental routine. The flosser is: cordless, with a large water reservoir that can be refilled by taking it off, or the convenient back opening.
There are 5 different heads you can use with this as well!
My favorite feature is how personalized the water pressure is! My husband and I each have our own preference. He prefers to use the preset "Strong" mode, and I prefer the preset "Pulse" mode. In addition to the preset modes it comes with, you are able to set your own PSI level.
For 2 of us using this nightly, the charge lasts a week! So no need to worry about having to charge it nightly.
The carrying pouch it came with is perfect for traveling.
It is completely waterproof, which is perfect because it can get messy! Especially when you first begin to use the product.
I rate this product 5/5 ☆. I was skeptical, but hopeful. I have a hard time flossing my back molars, but never knew if a water flosser was too good to be true. My husband and I were both amazed at how well it worked. I have a crown, and it is helpful for ensuring it stays clean as well.
The Pore Vacuum has been a wonderful addition to my spa nights! I had never used one before, and needed to read the directions. This you slowly slide across your face, and be sure to not leave it one place for too long! I use a gentle exfoliating facial wash, and a warm wash rag after to ensure my pores are opened before using. The suction begins soft, and you are able to manually increase it as you see fit for your skin.
There are 4 different heads you can use with this. My blackheads are most concentrated around my nose. So I typically use the oval head for this area. The diamond head is great for acne scars, and I use it around my cheeks and forehead. The blue light therapy I use once weekly for my acne, and the red light therapy is great to use after you perform blackhead extractions.
**Remember to read directions prior to use. I did not, (my mistake), and I held the head on my nose for a little bit, and left a bruise. With proper use of gently moving the tool around, this will not happen.
This tool is rechargeable, and a charge lasts me for two weeks as well!